Oct 10 | Evan | No Comments | Blog High School Senior Portrait Photographer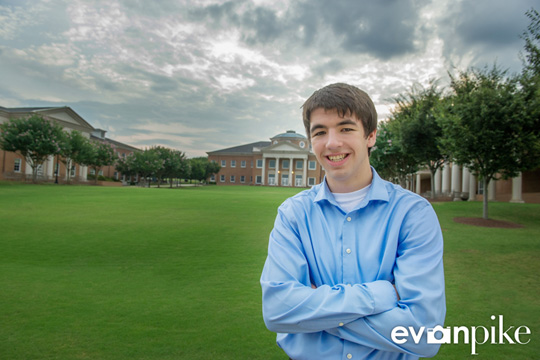 I've always felt that Cary Academy is a great location to take high school senior portraits. The well kept grounds and impressive architecture gives a little bump to the classiness of the senior portraits! I was really happy that a lot of seniors in the 2014 class wanted to take their senior portraits there and Keegan was one of the first of many seniors this year to request it. While we had to wait a few minutes for the rain to stop, afterwards he had these cool clouds and soft light that I love for portraits. After just minutes into the senior session, he seemed comfortable in front of the camera and with all those factors coming together, we came away with great senior portraits!
Cary, Raleigh, and Apex Class of 2015! Now is a great time to Contact me to reserve your high school senior portrait session with Evan Pike Photography!
Tags: Cary Senior Portrait Photographer, Cary Senior Portraits, high school senior portrait photographer, Senior Portrait Photographer, Senior Portrait Photography, Senior Portrait Session, Senior Portraits