Jan 26 | Evan | No Comments | Blog High School Senior Portrait Photographer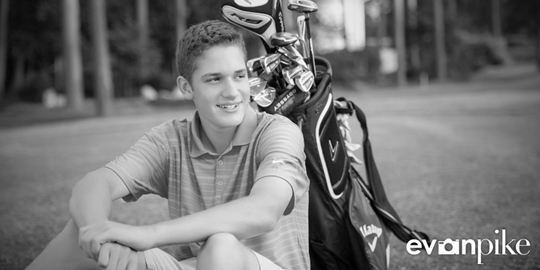 Where did 2012 go?  The last year was a great, record breaking year for Evan Pike Photography, but the last quarter of the year filled my schedule with portrait sessions, NCAA football and basketball games, NFL games and I was probably one of the only Carolina Hurricanes hockey fans that was actually a little happy that Raleigh's pro hockey team and the NHL were locked out as I needed a little break (VERY happy to start NHL games soon though)!  Something had to give, and unfortunately, it was my blog posts.  In 2012, I photographed almost 100 seniors in Cary, Raleigh and Apex for their senior portraits and thought it would be nice if I blogged about some of them before they all graduated in a few months!
First up, John.  As you can probably guess, this senior is a golfer!  As I'm writing this post, it is snowing outside, but I don't miss the heat and humidity we had that hot August day in Cary!  It was great idea to take John's portrait's on the golf course, where he felt at home.
Cary, Raleigh and Apex Class of 2014, due to increased demand, Evan Pike Photography will be offering a limited amount of Spring senior portrait sessions.  Now is a great time to schedule your 2014 senior portrait session!  Contact me today to reserve your high school senior portrait session with Evan Pike Photography!
Tags: 2013 Seniors, Cary Senior Portrat, Portrait Photographer, Raleigh Senior Portrait, Senior Portrait Photographer, Senior Portrait Photography, Senior Portrait Session