Jan 23 | Evan | No Comments |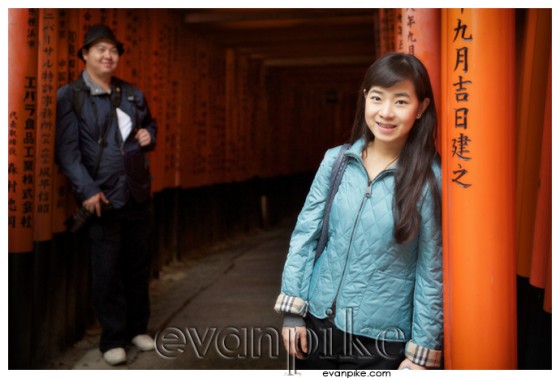 This post is a LONG time overdue! After returning from my latest trip to Japan, everything just steamrolled together and between work and moving into my new home/studio, everything got delayed. In any case, I'm about to launch my new Japan Photo Guide website and decided it was about time to getting this post up on my blog. So without further ado…
Andre and Evelyn were the latest couple to hire me as their Japan Photo Guide. Andre had been to Japan before for business but hadn't had much time to explore on his own and speaks very little Japanese. Andre is also quite the hobbyist photographer so it made a lot of sense to hire me rather than a traditional tour guide.
I've met a lot of people during my travels around Japan and taking Andre and Evelyn around Tokyo, Kyoto and a few places in between, felt more like traveling with friends and family than a job. Whether it is before photo shoot or tour of Japan, I always get a little nervous before meeting my clients-after all I had only emailed with Andre before meeting him at Narita Tokyo International Airport-but soon after picking them up from the airport, I knew I had nothing to worry about. Meeting and working for such warm and wonderful people, makes my job the best in the world! Furthermore, between our mutual interest in photography and our sincere love for yakiniku (Japanese style Korean BBQ), I knew we would be great friends!
We spent most of our time in Kyoto and Tokyo, but did make a few stops in between. This was one of my more memorable trips, highlighted by our dinner experience with a geiko and maiko (geiko is what the geisha in Kyoto are called and maiko is a geiko/geisha in training)! I was going to arrange for just the two of them to experience the traditional meal and company of the trained entertainers, but since the geiko and maiko didn't speak English, I came along as the translator–poor me!  Seeing a geiko walking around Kyoto is a rare opportunity that most travelers don't get to see, but actually having a chance to have dinner and drinks with one is even rare for Japanese. Part of this is the price tag that comes along with such a treat, which can easily run $2,000 USD for about 1.5 hours of company and dinner for 3 people.
Before going, Andre and Evelyn wanted to get dressed in some tradtiional Japanese clothes, and after a quick phone call, I was able to reserve some kimonos that were appropiate to wear to our experience. We arrived at the traditional restaurant and were of course greeted as VIPs. In our private room, the first course of our kaiseki (traditional Japanese course meal) was waiting for us. I've often heard that traditional Japanese food is "eaten with your eyes," because of how beautiful the preparation is. This meal was delicious as it was carefully prepared and presented!
About 20 minutes into our meal, the geiko, maiko and a musician arrived. I'll never forget the moment they walked in and all 3 of us were suddenly silent and struck with awe. After introductions, things loosened up quickly and I was translating a lot of questions from Andre and Evelyn but also they had a lot of questions for us, as foreigners traveling in Japan. After teaching high school for 3 years in Japan, I can honestly say that the young maiko, really didn't act too different from some of my students. Especially after the maiko insisted on playing with my iPhone and Andre's camera!
It is easy to forget that under all the clothes, makeup and tradition, that they are just like you and me. After about an hour or so of chatting, eating and drinking with them, the geiko and maiko performed two beautiful traditional dances. I've experienced quite a lot in Japan, but this experience with the geiko and maiko was incredibly wonderful and surreal. Certainly a memory I will never forget, but more importantly, I made friends in Andre and Evelyn that I will also never forget.
[fancygallery id='2010japan']
Jul 19 | Evan | No Comments |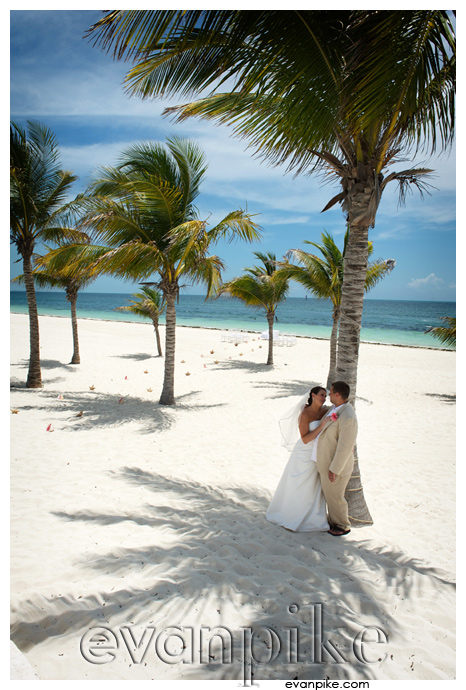 This was such a one sided match up! The humidity and heat in Mexico totally owned me as I just had to walk outside my room and the sweat would begin to flow! Although, that didn't stop me from photographing Adam and Jessica's beautiful wedding at Excellence Playa Mujeres Resort and Spa, located near Cancun, Mexico (although my sunburn from my first day there almost did)! Everything from the welcome kits for guests, that included anything one might need for a trip to the beach – even intertubes – to the hand painted maracas that were used to get Adam and Jessica to kiss instead of tapping a glass, was extremely thoughtful and fit this lovely couple perfectly! Adam and Jessica had planned a very intimate wedding and even though I was the wedding photographer at their beach wedding, they really made me feel more like a guest! Photographing their wedding and engagement photography session on the beach was an unforgettable experience and I am so thankful I was given such a wonderful opportunity! Thanks again to Jessica, Adam and their families and congratulations on your beautiful wedding!
Feb 13 | Evan | No Comments |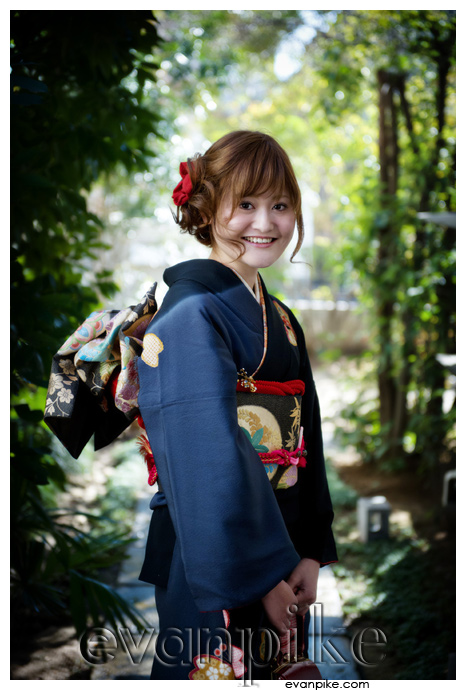 I am so lucky to have a job that allows me to travel! Especially, when it means I get to go to places I love, like Japan! At the end of January, I returned to Japan for the first time since leaving in 2008 to photograph a wedding. I was only in Japan for one week and had a lot of friends (and a lot of food and coffee drinks) to catch up with, but in addition to the wedding, I decided to take on one portrait photography session as well. High school senior portrait photography isn't a popular at all in Japan, but instead, especially for women, it is common to get some portraits done for Coming of Age Day (Seijin no Hi). Wikipedia explains it better than I can:
[Coming of Age Day] is a Japanese holiday held annually on the second Monday of January. It is held in order to congratulate and encourage all those who have reached the age of majority (20 years old) over the past year, and to help them realize that they have become adults. Festivities include coming of age ceremonies (seijin-shiki) held at local and prefectural offices, as well as after-parties amongst family and friends.
So in honor of Ayumi turning 20 years old, we did a photography shoot with her wearing her kimono. As you can see, both Ayumi and her kimono were beautiful! Ayumi and her family had picked out a spectacular restaurant to use as the backdrop for our session and after we finished taking photographs, treated me to a delicious lunch (again, I am so lucky)!

Nov 30 | Evan | No Comments |
The title pretty much says it all! As I gear up to photograph a wedding in Japan in January I thought I would put together a slideshow of my favorite photos I made while over there. Make sure you turn your sound on as there is an awesome song by Gunsolo called "Arcadia." Also, if you are heading to Japan, or know somebody else who is, don't forget I am available as a photography tour guide for your trip to Japan!
Oct 27 | Evan | 4 Comments |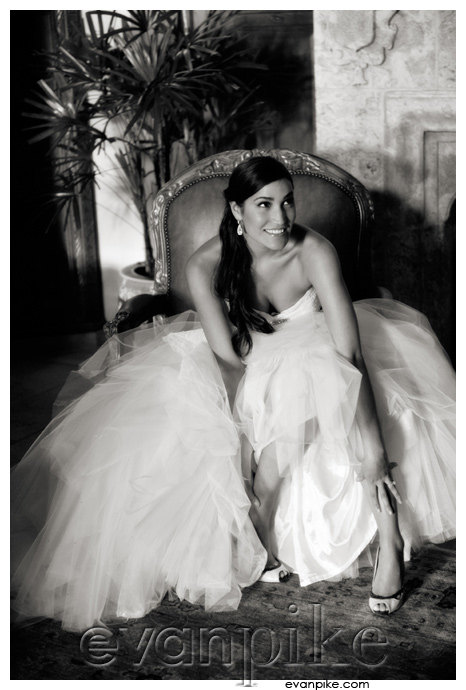 Okay, so it was actually only one adventure and probably "adventure" isn't even the right word to use, but to say I was excited about shooting in the Al Capone Suite at The Biltmore — where a scene from one of my old school favorite movies, Bad Boys, was shot — is definitely an understatement. Thanks to Andrew Bryant Photography, I was sent to Miami to shoot with and learn from some awesome photographers, including Ray Santana, Becker, Kenny Kim, Kenny Nakai and Lawrence Chan (SEO guru, Tofurious). It was great to see how these guys and the rest of the photographers worked and shot and feel like we all learned a lot from each other. Besides the fact that we were in one of the most beautiful cities, at one of the most famous hotels in the world, with gorgeous models, what made it extra special was the good people that were there. Anytime I can return to Miami in the fall or winter is a win for me, but coupled it with such a wonderful experience made my trip perfect.
Jul 03 | Evan | No Comments |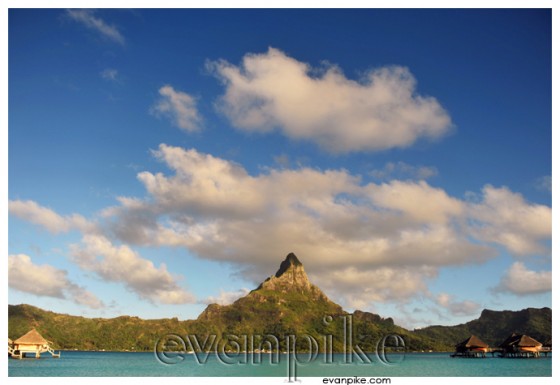 After Moorea, we island hopped over to Bora Bora and just like Moorea, saying it was beautiful was an understatement. To be honest, I am not exactly sure my photos even show the real beauty of these islands. The mountain that is in just about all of these photos is called Otemanu, and can be seen from just about anywhere in Bora Bora, including from our over water bungalow! If you want to see more or buy a print, check out the gallery.
[fancygallery id='09bora']
Jul 01 | Evan | No Comments |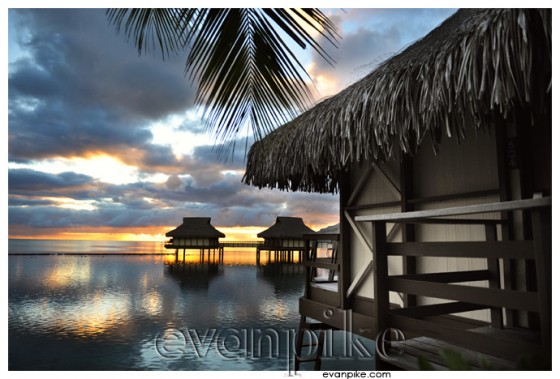 For our honeymoon we went to a couple islands in the French Polynesia. First we stopped in Moorea, which is about a 10 minute flight from Tahiti. Moorea is just too beautiful. Taking photos there is so easy, but choosing your favorite ones is ridiculously hard! All things considered though, that isn't so bad! I wish I had more time to explore the island and shoot at different places, but after all, I was on my honeymoon! Anyway, here are just a few of my favorites and if you want to see more or buy a print, check out the gallery. Photos from Bora Bora will be coming soon!
[fancygallery id='09moorea']