Nov 04 | Evan | 8 Comments | Bar and Bat Mitzvah Photographer Blog Event Photographer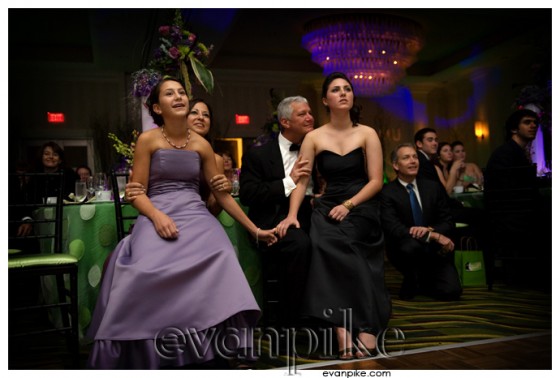 Wow.
Where to begin!? Good thing I am a photographer, because I am having trouble coming up with the right words to describe just how awesome of a party this was! This Halloween Bat Mitzvah was not your typical costume party (or typical Bat Mitzvah for that matter)! Moreover, the family was one of the nicest and most loving families I have ever met. Don't get me wrong, I have a great family and a wonderful, loving relationship with my parents and sister, but Alex's family is just bursting with love and anyone who has the pleasure of meeting them can immediately see this. It was a very special Bat Mitzvah, for a very special family and I am so thankful that I was given the opportunity to document the day! Oh, and did I mention that just about everything was a surprise to Alex!? Her parents did an incredible job of planning out the event and put together an amazingly "wicked" cast of vendors for this Wicked themed party:
Lauren Kennedy || staring as Elphaba
Andrea Schultz Twiss || staring as Glinda
Ray Walker || staring as Fiyero
Randy Wogick || staring as the party organizer and planner
"B" Sharp Productions || staring as the band and DJ
CE Rental || set design (elegant linens, chairs, cushions, chargers, salad plates)
English Garden || art decoration (gorgeous flowers and table pieces)
Showtime Events || visual effects (incredible wall and table lighting)
Swank Cake Design || Wicked (and of course delicious) cake
Charlie Weeks || cinematographer (did the video of the service and the party)
Maria Steiner || costume designer (service and evening gowns for all girls in the family)
Megan Brewer || catering manger at the Raleigh Renaissance Hotel
Also, I want to thank Megan and Dean from the Raleigh Renaissance Hotel! Not only did they do a fantastic job with this Bat Mitzvah, but were incredible for me as well for my own wedding at the Renaissance!
Congratulations to Alex and a HUGE thank you to the whole family!
Tags: Bat Mitzvah Photographer, Charlie Weeks, Halloween, Maria Steiner, Megan Brewer, Raleigh, Raleigh Renaissance Hotel, Randy Wogick, Ray Walker, Wicked