Jan 01 | Evan |

No Comments

| Blog High School Senior Portrait Photographer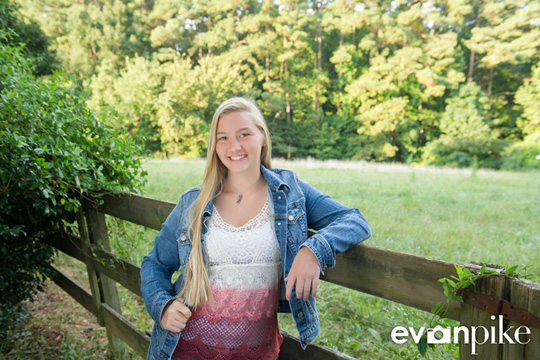 Blythe is the younger sister of one of my previous high school seniors so I was so happy the family came back to me again for another round of senior portraits! She and her family had picked out a fantastic location that matched her personality and had personal meaning to the family which helped to make some great senior portraits. Of course it helped that she was a natural in front of the camera and seemed to enjoy the senior portrait session. I guess not only does being a good athlete run in the family, but modeling for senior portraits does as well! Take a look at a few of my favorite senior portraits from her session below!
Cary, Raleigh, and Apex Class of 2015! Now is a great time to Contact me to reserve your high school senior portrait session with Evan Pike Photography!
Tags: Cary Senior Portrait, Cary Senior Portrait Photographer, Cary Senior Portraits, high school senior portrait photographer, Senior Portrait Photographer, Senior Portrait Photography, Senior Portrait Session, Senior Portraits