Jan 23 | Evan | No Comments | Blog Japan | Landscapes Portrait Photographer Travel Photography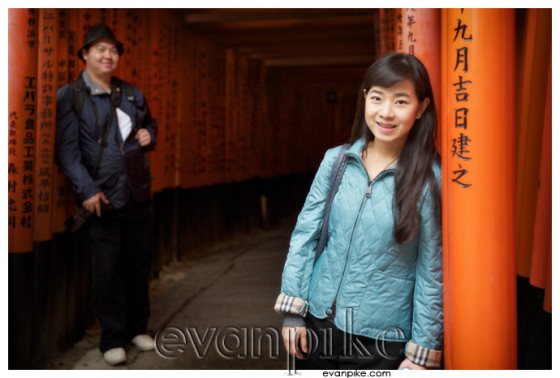 This post is a LONG time overdue! After returning from my latest trip to Japan, everything just steamrolled together and between work and moving into my new home/studio, everything got delayed. In any case, I'm about to launch my new Japan Photo Guide website and decided it was about time to getting this post up on my blog. So without further ado…
Andre and Evelyn were the latest couple to hire me as their Japan Photo Guide. Andre had been to Japan before for business but hadn't had much time to explore on his own and speaks very little Japanese. Andre is also quite the hobbyist photographer so it made a lot of sense to hire me rather than a traditional tour guide.
I've met a lot of people during my travels around Japan and taking Andre and Evelyn around Tokyo, Kyoto and a few places in between, felt more like traveling with friends and family than a job. Whether it is before photo shoot or tour of Japan, I always get a little nervous before meeting my clients-after all I had only emailed with Andre before meeting him at Narita Tokyo International Airport-but soon after picking them up from the airport, I knew I had nothing to worry about. Meeting and working for such warm and wonderful people, makes my job the best in the world! Furthermore, between our mutual interest in photography and our sincere love for yakiniku (Japanese style Korean BBQ), I knew we would be great friends!
We spent most of our time in Kyoto and Tokyo, but did make a few stops in between. This was one of my more memorable trips, highlighted by our dinner experience with a geiko and maiko (geiko is what the geisha in Kyoto are called and maiko is a geiko/geisha in training)! I was going to arrange for just the two of them to experience the traditional meal and company of the trained entertainers, but since the geiko and maiko didn't speak English, I came along as the translator–poor me!  Seeing a geiko walking around Kyoto is a rare opportunity that most travelers don't get to see, but actually having a chance to have dinner and drinks with one is even rare for Japanese. Part of this is the price tag that comes along with such a treat, which can easily run $2,000 USD for about 1.5 hours of company and dinner for 3 people.
Before going, Andre and Evelyn wanted to get dressed in some tradtiional Japanese clothes, and after a quick phone call, I was able to reserve some kimonos that were appropiate to wear to our experience. We arrived at the traditional restaurant and were of course greeted as VIPs. In our private room, the first course of our kaiseki (traditional Japanese course meal) was waiting for us. I've often heard that traditional Japanese food is "eaten with your eyes," because of how beautiful the preparation is. This meal was delicious as it was carefully prepared and presented!
About 20 minutes into our meal, the geiko, maiko and a musician arrived. I'll never forget the moment they walked in and all 3 of us were suddenly silent and struck with awe. After introductions, things loosened up quickly and I was translating a lot of questions from Andre and Evelyn but also they had a lot of questions for us, as foreigners traveling in Japan. After teaching high school for 3 years in Japan, I can honestly say that the young maiko, really didn't act too different from some of my students. Especially after the maiko insisted on playing with my iPhone and Andre's camera!
It is easy to forget that under all the clothes, makeup and tradition, that they are just like you and me. After about an hour or so of chatting, eating and drinking with them, the geiko and maiko performed two beautiful traditional dances. I've experienced quite a lot in Japan, but this experience with the geiko and maiko was incredibly wonderful and surreal. Certainly a memory I will never forget, but more importantly, I made friends in Andre and Evelyn that I will also never forget.
[fancygallery id='2010japan']
Tags: Dinner with Geisha, Experience Japan, Geiko, Japan | Landscapes, Japan Photo Guide, Kyoto, Maiko, Tokyo, Travel Photographer