Jan 08 | Evan | No Comments |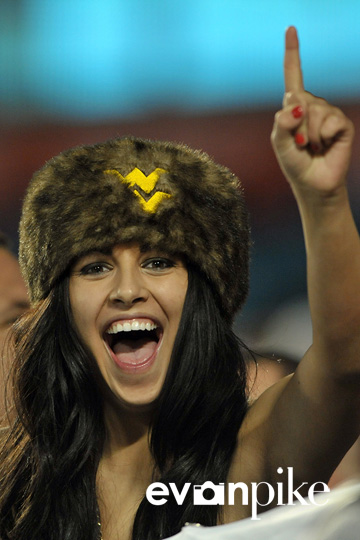 The third and final bowl game for me in Florida was The Discover Orange Bowl, in my old stomping grounds, Miami, Florida.  Of course when I was in Miami, The Hurricanes were still playing in the real Orange Bowl, but that is a story for another day.  The story here was that apparently Clemson didn't get the memo that they needed to be ready to play because WVU completely dominated them.  Not a fun day for an ACC fan but at least the photo above got picked up by Sports Illustrated. Wish I had some way to let the girl from West Virginia University know that she is now an official "super fan" and got her 15 minutes of semi-fame now!   I also photographed the Champs Sports Bowl and Capital One Bowl, both in Orlando .
Jan 02 | Evan | No Comments |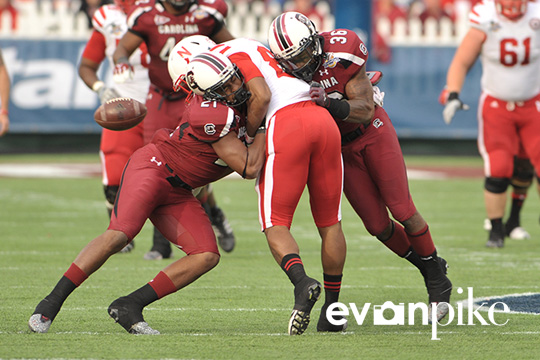 The second of three NCAA bowl games I photographed was the Capital One Bowl between South Carolina and Nebraska.  I enjoyed taking photos at this game a lot more than I thought I would considering I had no particular interest in either team, but perhaps that's better!  I also photographed the Champs Sports Bowl in Orlando and Orange Bowl in Miami.
Dec 30 | Evan | No Comments |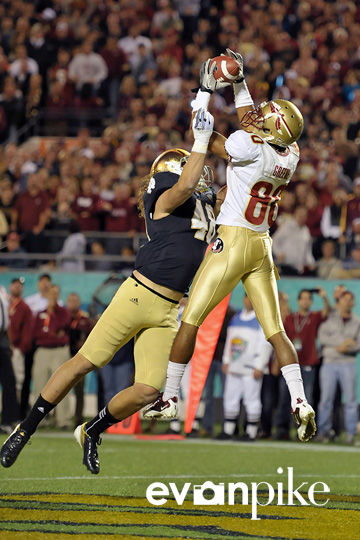 Anytime I can go to Florida during the winter is a good time.  Even better when I get to go for work and photograph NCAA Bowl Games, like the Champs Sports Bowl featuring FSU and Notre Dame.  AND even better when Sports Illustrated uses a photo of mine for an article written by Andy Staples.  I also photographed the Capital One Bowl in Orlando and Orange Bowl in Miami.
Nov 27 | Evan | No Comments |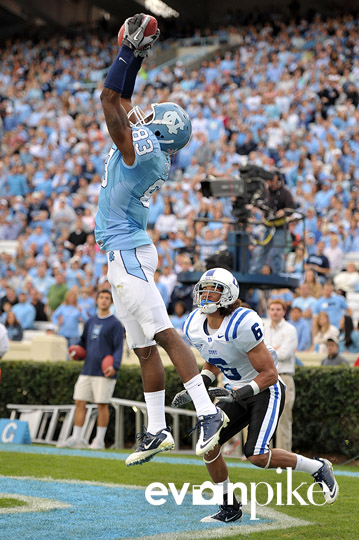 Not sure if I will go to a bowl game, so the Duke at UNC football may be the last NCAA football I photograph this season. I've enjoyed getting back to my roots of sports photography, especially college football which has a great atmosphere! Next football game is Atlanta at Carolina Panthers, anyone else going?
Oct 18 | Evan | No Comments |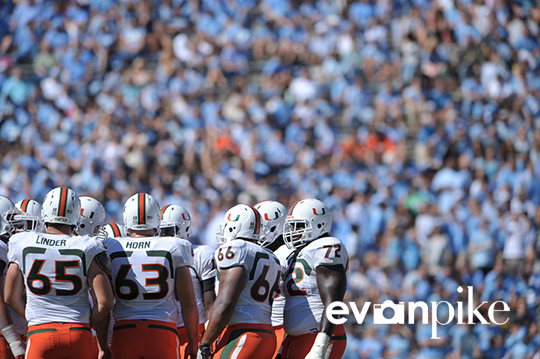 I couldn't have asked for more perfect weather for football than what we had last Saturday in Chapel Hill, North Carolina.  About 70, beautiful Carolina Blue Skies, no humidity, just perfect.  As somebody that grew up as a Tarheel, then went to the University of Miami for undergrad, when Miami and UNC play, I am always a little torn.  I usually root for whichever team is having the better season so at least one of them can have a better chance to get a BCS, but it usually turns out they always ruin each other's season.  That being said, I'm never sad to see Miami win!  Thanks again to Cal Sport Media for having me photograph for them.
Oct 02 | Evan | No Comments |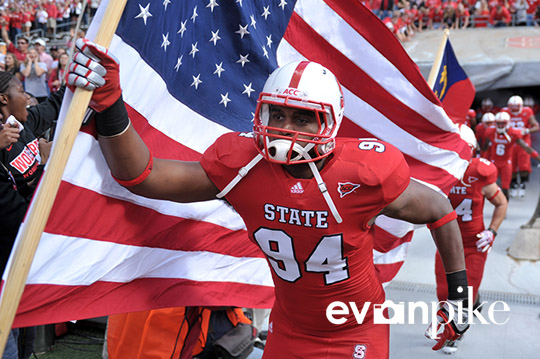 After the summer was trying to last a little longer, I was very excited for a cool fall day at Carter-FInely Stadium to photograph the Georgia Tech Yellow Jackets vs North Carolina State Wolfpack for Cal Sport Media.  I was not so excited about NCSU students and fans playing cornhole all over the parking lot I had reseved parking in (who knew it was such a popular game)!
Sep 11 | Evan | No Comments |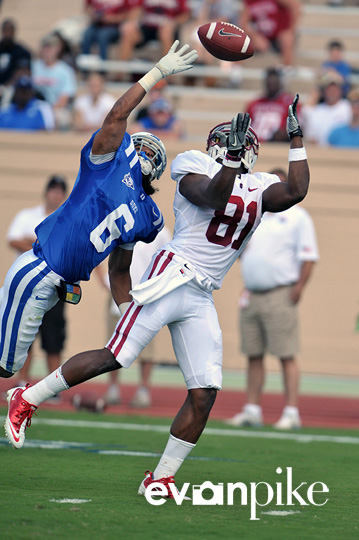 Once again thanks to Cal Sport Media, I was photographing some NCAA football. This time might Stanford made their way into Durham to take on the Duke Blue Devils. While this would have been a great match up during most basketball seasons, I think we all knew where this one was headed…

Sep 03 | Evan | No Comments |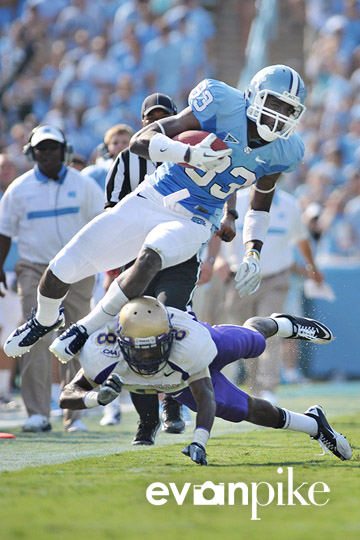 It's been a little while, but thanks to Cal Sport Media, I was back in Keenan Stadium today for the James Madison vs UNC football game today. It took me about a quarter to get back into the swing of the speed of NCAA football, but overall, I'm happy with what I came away with. Congrats to UNC on a great start to a season and to Bryn Reenner who set a UNC completion percentage record completing 22 out of 23 passes (95.7%), but actually, the one pass he didn't complete was an interception, so technically 100% percent of his passes were caught today! Pretty incredible for anyone, let alone a first time starter!