Jan 10 | Evan | No Comments |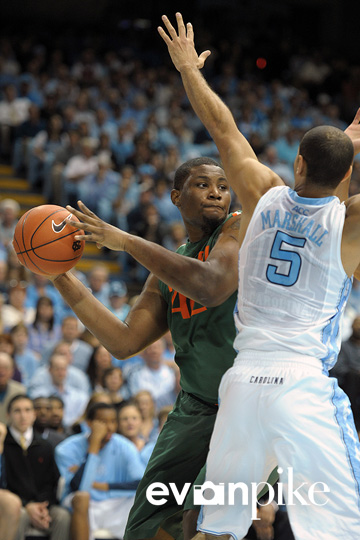 As a University of Miami graduate but being born and raised a Tarheel, it's always bittersweet for me when these two teams play.  In football, I usually end of rooting for whichever team has the best chance to make a good bowl game, but it always seems like the underdog is always ruining the other teams season, making it worse for me.  In basketball, I just hope for a good game and can find something good about either team winning!  The image above was picked up by ESPN on their UNC Basketball Blog.
Jan 08 | Evan | No Comments |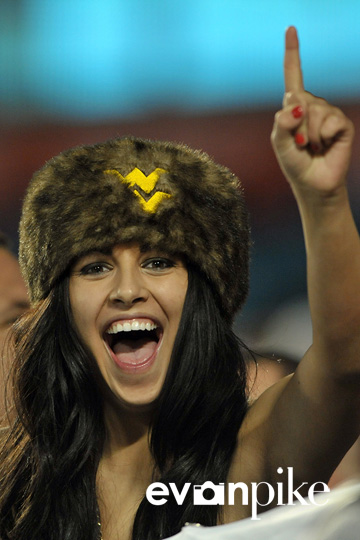 The third and final bowl game for me in Florida was The Discover Orange Bowl, in my old stomping grounds, Miami, Florida.  Of course when I was in Miami, The Hurricanes were still playing in the real Orange Bowl, but that is a story for another day.  The story here was that apparently Clemson didn't get the memo that they needed to be ready to play because WVU completely dominated them.  Not a fun day for an ACC fan but at least the photo above got picked up by Sports Illustrated. Wish I had some way to let the girl from West Virginia University know that she is now an official "super fan" and got her 15 minutes of semi-fame now!   I also photographed the Champs Sports Bowl and Capital One Bowl, both in Orlando .
Oct 27 | Evan | 4 Comments |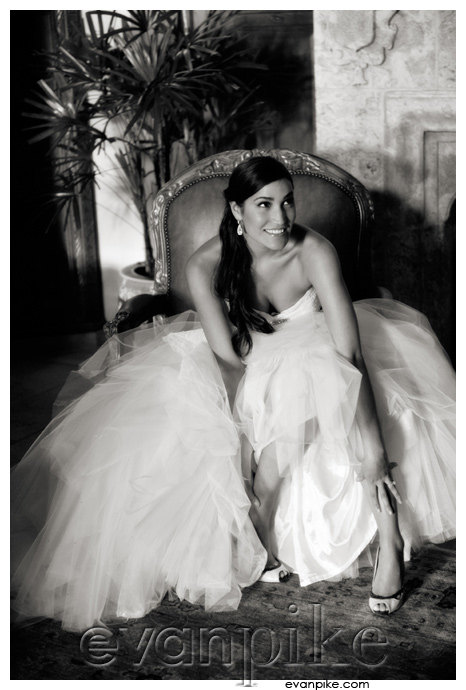 Okay, so it was actually only one adventure and probably "adventure" isn't even the right word to use, but to say I was excited about shooting in the Al Capone Suite at The Biltmore — where a scene from one of my old school favorite movies, Bad Boys, was shot — is definitely an understatement. Thanks to Andrew Bryant Photography, I was sent to Miami to shoot with and learn from some awesome photographers, including Ray Santana, Becker, Kenny Kim, Kenny Nakai and Lawrence Chan (SEO guru, Tofurious). It was great to see how these guys and the rest of the photographers worked and shot and feel like we all learned a lot from each other. Besides the fact that we were in one of the most beautiful cities, at one of the most famous hotels in the world, with gorgeous models, what made it extra special was the good people that were there. Anytime I can return to Miami in the fall or winter is a win for me, but coupled it with such a wonderful experience made my trip perfect.
Feb 23 | Evan | No Comments |
Wow! So much has gone since my last post that I really have not had any time to blog about it! Yes I really have been that busy, but the past 10 days or so were great, including everything from a business trip to Las Vegas to child portrait sessions and birthday parties to getting my own portrait done! More is coming real soon, but until then, check out this video from UM at UNC that shows a new way to show of my photos.
[flashvideo file=/wp-content/video/UMUNC.flv /]
Feb 10 | Evan | 1 Comment |
Once again, the University of Miami Hurricanes came to the state of North Carolina. Once again, I was asked to photograph the game between Miami and a North Carolina ACC foe. Once again, I was able to photography a great game and once again, Miami lost in overtime! At least I did manage to come away with some decent photographs.
Jan 28 | Evan | 2 Comments |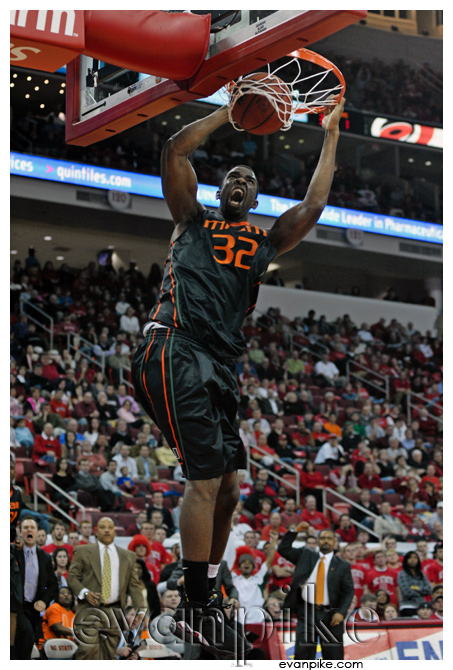 Again I shot for the University of Miami Sports Information Department, and again Miami lost to another North Carolina school. This time it was an overtime loss to the Wolfpack of North Carolina State University. Miami started out the first half without much effort and was down by double digits at halftime. The Hurricanes started out the second half strong and made it a game, mainly because everytime Miami's Dwayne Collins touched the ball he seemed to be able to dunk it! Really, it was a little ridiculous. Equally as ridiculous was NCSU shooting 54% from the three point line and connecting on 14 threes! At the end of regulation, UM had the last shot, but couldn't get the shot to fall. In the end, a fade away three pointer with about 3 seconds left in OT, put NCSU up for good giving Miami their second strait overtime loss!
[fancygallery id='09umncsu']
Jan 17 | Evan | No Comments |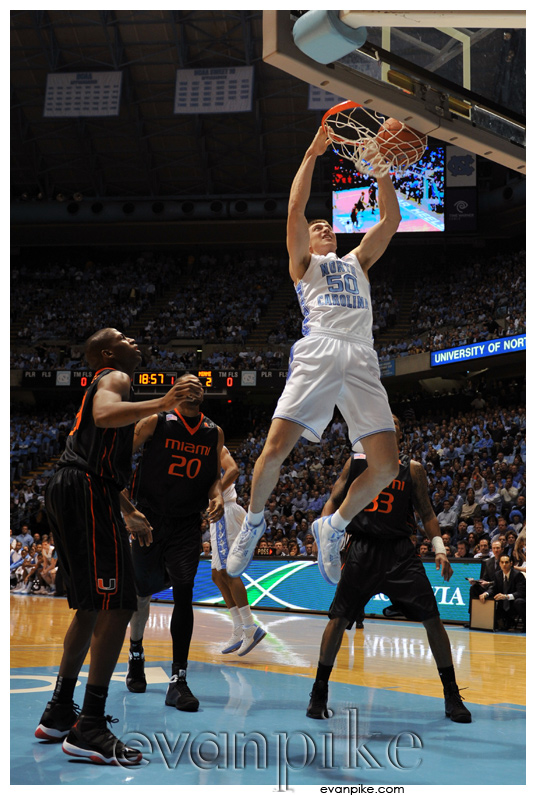 Last Saturday, I shot the the basketball game at the Dean Dome for the University of Miami Sports Information Department because Jack McClinton and the Miami Hurricanes came into town to play the UNC Tarheels. Having been out of the country for the past few years, it was the first NCAA game I had shot in a while! It took me a few plays to get the rust off, but I came away with some good shots and had a blast!
[fancygallery id='09umunc']