Nov 17 | Evan | No Comments |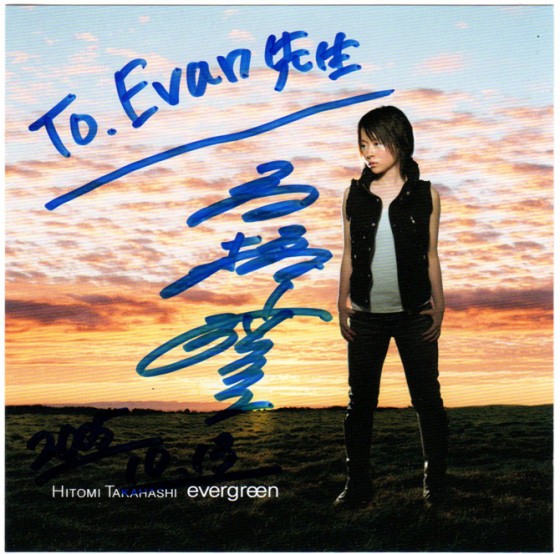 Well technically, since she graduated and I am not teaching anymore, Hitomi Takahashi is not my student anymore, but while she was in high school and I was her teacher I couldn't really blog about it. Hitomi was my student when she was a freshman in high school at Shiogama Girls High School. She was this shy, teeny-tiny girl (147 cm, what is that, about 4'8″?), who sat in the back and never volunteered to answer any questions unless she was called on. When I realized who she was, and after hearing her music I couldn't believe that such a loud, incredible voice was coming from this little girl! Even more incredible than that was when I went to see her perform live. On stage, she was a completely different person. In class, Hitomi was a quiet, down to earth, humble, shy girl, but on stage, she was this all powerful, attention commanding, loud women. What an incredible transformation it was! Seriously, it is so hard to believe how much power–and what an incredible voice– this girl has, especially at a live performance. After a teaching few months, I had found out that we had a common interest in photography, so we made a trade. I gave her a small book of some of my photographs and she hooked me up with a autograph on her CD… I definitely got the better end of the bargain there! 😉 Thanks Hitomi!After the break are some of her songs, even if you can't understand Japanese, I think you will still appreciate her voice! This first one was her first single that debuted at number 1 in the Japanese Pop Charts, something only one other women singer had done at that point. I am not a huge fan of JPOP, and maybe it is because I am biased, but I really like Hitomi Takahashi's music! More
Nov 03 | Evan | No Comments |
Anyone who has ever lived in Japan has probably heard multiple times, from multiple people, that Japan has four seasons. A lot of my friends and coworkers were really proud and excited to tell me this fact. At first, I couldn't understand why so many were so eager to tell me this, after all, most places that I have been to, do in fact have four seasons. I kept asking myself, "Why do they think they are so special for having four seasons?" It took me a while to realize that they were not thinking this way at all and the more likely reason I heard this so many times is because there is such a heavy emphasis on the changing of seasons in Japan.
More
Oct 30 | Evan | 3 Comments |
One of the most powerful, but greatly misused, ways to use Twitter is networking with #FollowFriday. For those of you that have yet to give in and sign up with Twitter, #FollowFriday is a trend where every Friday, you share with your followers somebody you follow. Basically an introduction.
The problem is, too often, people just try and squeeze as many names as possible in the 140 character tweet that will look something like this:
#FollowFriday @ZackTM, @27518, @SmugMugPro, @andrew_bryant, @samandjt, @myfunkycamera ……
And some even turn the "#FollowFriday" part to "#FF" to get one extra name in. Sounds nice and generous right? Maybe, but highly ineffective! Just listing off a bunch of names, tells me nothing about them. Not only does that not give me any incentive to follow any of those listed (unless I know them already), but even if it does catch my attention, I don't have time to check everyone that is recommended, especially when multiple people do #FollowFriday this way. I am more likely to skip the entire tweet completely rather than clicking on even one of the links. Think about it, Twitter has a limit of 140 characters for a reason. We want quick, to the point, information. If I had time to read everyone's blog, I would be reading your blog, not using Twitter as a RSS feed to weed out information from my network. If I find something interesting, I will check it out, but if it doesn't intrigue me, its getting scrolled over. Think of it as a tweet becoming the new elevator pitch and just dropping names won't sell me on following any of them.
The solution is to keep it simple! More
Jul 01 | Evan | 4 Comments |
On May 16th, 2009, Satomi and I got married in Raleigh, NC at Temple Beth Or and had our reception at The Raleigh Renaissance Hotel at North Hills. Again I want to thank everyone that made it possible and helped out. We had a great time and think all of the guests did as well! I am a good photographer, but not good enough to shoot my own wedding and be part of it at the same time! So, all the photos on this post are by Patrica Suzanne. Thanks Patty!
Feb 23 | Evan | No Comments |
Wow! So much has gone since my last post that I really have not had any time to blog about it! Yes I really have been that busy, but the past 10 days or so were great, including everything from a business trip to Las Vegas to child portrait sessions and birthday parties to getting my own portrait done! More is coming real soon, but until then, check out this video from UM at UNC that shows a new way to show of my photos.
[flashvideo file=/wp-content/video/UMUNC.flv /]
Feb 06 | Evan | 2 Comments |
Hope this never happens to me!
Feb 03 | Evan | No Comments |
Japan has a festival for just about everything you can imagine. To be honest, most of them are over hyped and once you have seen one, you have seen them all. Of course, there are some exceptions. One of which being the Sapporo Snow Festival, which is in Sapporo every February. This was by far my favorite festival in Japan! The main attractions are the huge snow sculptures, some of which are functional, some artistic and some are both. Equally as cool, in the entertainment district Susukino, there are some amazing ice sculptures…the best of which are actually ice bars that open at night and serve hot drinks! Throughout my years of living in Japan, I only went once… now I wish I went every year and can't wait until I get the chance to go back!
Jan 23 | Evan | No Comments |
I am so happy to be back in the USA but, I am not going to lie…  I miss Japan!  Especially when I see video clips like this, it takes me back…  This video is in Japanese but you don't need to understand Japanese to appreciate it and have a laugh!  I cannot confirm how authentic it is, but while I was teaching, some of my students definitely played around like this and Satomi insists that this really happens!  My favorites are the guy on the bike getting shot and the one guy coming out of the convenient store called, "Lawson" getting hit by the sword!