Aug 03 | Evan | No Comments |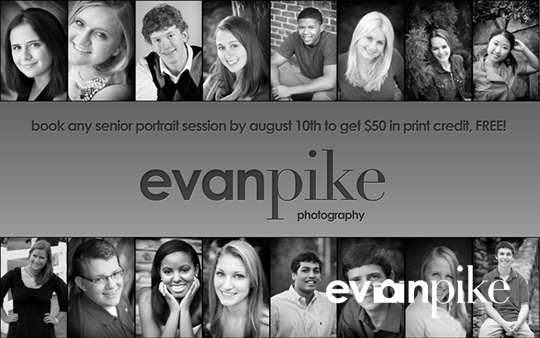 The title pretty much says it all!  High school seniors in Cary, Raleigh, Apex and surrounding areas, book any senior portrait session by August 10th and you will get a $50 print credit for free!  Who doesn't like free stuff?  Senior portrait session does not have to be before August 10th, you just have to schedule your senior portrait session by then.
May 16 | Evan | 3 Comments |
I am getting married today and then after that will be traveling with Satomi's family to Miami. After Satomi's family returns to Japan, we will head to the beautiful islands of Moorea and Bora Bora of Tahiti for our honeymoon! So I am going to be away for a few weeks, but before going, I just wanted to say thank you to everyone who helped make this day happen. Most importantly, I want to thank my parents and family, Satomi's family and all of our friends for all of the love, support and guidance over the years!  Also a special thank you to our Rabbi at Temple Beth Or, Lucy Dinner.  Next, I wanted to thank all the wonderful vendors that helped make our day spectacular and unforgettable! In no particular order, thank you to:
Thanks again to everyone! photos to come after we come back, so stay tuned!
May 04 | Evan | No Comments |
So… This past weekend, I was shooting a wedding in Georgia with
Andrew Bryant Photography
, and suddenly realized, my wedding here in the states is (at that time) in 2 week–As I write this post it is less! Naturally, thinking about our wedding here in Raleigh, North Carolina, making arrangements and her family coming over here, has made me think about our time (and wedding) in Japan. Then I realized, I never posted anything about it, so here you are! Since we always knew that we were going to do one in Japan and one in the USA, we decided to keep the one in Japan as simple (and affordable) as possible. We didn't have a religious ceremony at all, but instead had what was basically a lunch reception. Now what you have to understand, in Japan, there is always an after party and usually an after after party (each time the group gets smaller). So after the reception, we went to another party/reception with a few of the same people but while the first party was mainly for families and parent's friends and coworkers, the second party was mainly for our friends. After that, there was an after after party and then even an after after after party that Satomi and I didn't even attend but her friends still wanted to celebrate, party and drink more! After a full 12 hours of celebrating, partying and running around Tokyo, we were exhausted. Whew. I am getting tired again just thinking about that day! In any case, here are some photos from before and during the lunch reception at the Grand Prince Hotel Akasaka. Photographs were taken by my good friend Greg Logan.
Apr 14 | Evan | No Comments |
I am elated to announce I have joined Andrew Bryant Photography as an associate photographer! Andrew is an incredible photographer and while he is based here in Cary, he is nationally known and is available for weddings all over the world. Some of you knew this because I couldn't hold in the excitement and let it slip already, but now it is official! And to think that I might not have ever met him!
Here's the story. While Satomi and I were looking for our own wedding vendors, after a day of looking around, we decided to go to "one more place." That place turned out to be Paperwhites Press. The wonderful people at Paperwhites Press (who ended up doing our beautiful invitations–which are currently the opening image on their homepage), suggested that I get in touch with Andrew Bryant Photography since I had not found a photographer yet. Andrew and I hit it off immediately and I was overwhelmed with his kindness and support of my new photography company that I had started after returning from teaching English in Japan in September of 2008.
After our first meeting, I told Satomi that I wanted to somehow work with Andrew, but at the time I was thinking small, like second shooting for him from time to time. When he asked me to be an associate I was so honored and surprised that I was speechless and later worried that maybe he thought I didn't say much because I was trying to play it cool! To be honest, I am still not exactly sure how I convinced Andrew Bryant Photography to bring me on as an associate, but I am thrilled, thankful and feel so blessed that I have received this wonderful opportunity to show and improve my photographic talent! Thank you Andrew!