Feb 29 | Evan | No Comments |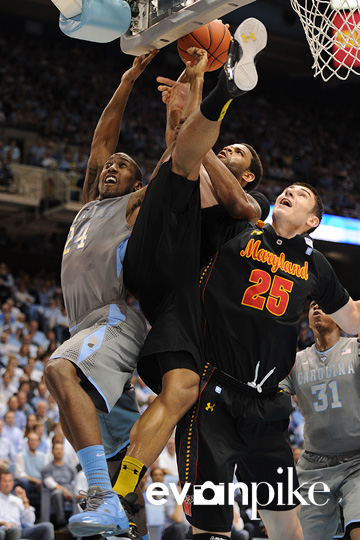 I don't mind when teams break out special uniforms for games.  In fact, I wouldn't mind seeing different shoes or jerseys more often.  As you can tell by the design of this website, I'm a fan of the color grey.  So it should come to no surprise that I loved the all grey UNC jerseys!  Senior night at UNC was a great one to photograph.
Jan 30 | Evan | No Comments |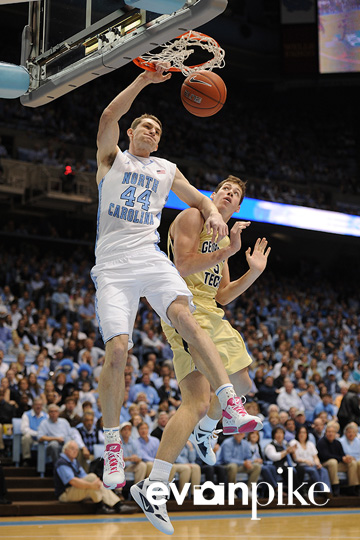 The Georgia Tech vs University of North Carolina basketball game was part of The American Cancer Society's Coaches vs. Cancer program.  Carolina was sporting pink Air Jordans which looked great (but I'm glad they didn't go with pink uniforms like they went with all grey for senior night).  Like most basketball games, it was fun photographing this game as well and it's always good when we can raise awareness for something like cancer research.
Jan 26 | Evan | No Comments |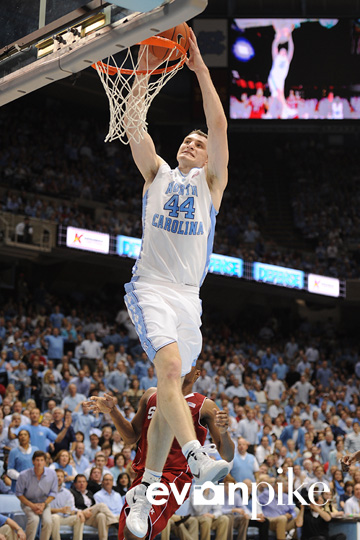 Rivalry games are always fun to photograph.  When NCSU and UNC play, there is certainly a little more atmosphere in the Dean E. Smith Center than other games, besides the Duke game anyway!  I've always felt that fans care way more about rivalries than the actually players do, I guess fan is short for fanatic!
Jan 10 | Evan | No Comments |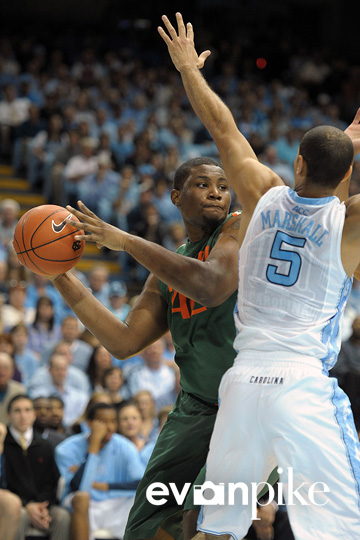 As a University of Miami graduate but being born and raised a Tarheel, it's always bittersweet for me when these two teams play.  In football, I usually end of rooting for whichever team has the best chance to make a good bowl game, but it always seems like the underdog is always ruining the other teams season, making it worse for me.  In basketball, I just hope for a good game and can find something good about either team winning!  The image above was picked up by ESPN on their UNC Basketball Blog.
Feb 10 | Evan | 1 Comment |
Once again, the University of Miami Hurricanes came to the state of North Carolina. Once again, I was asked to photograph the game between Miami and a North Carolina ACC foe. Once again, I was able to photography a great game and once again, Miami lost in overtime! At least I did manage to come away with some decent photographs.
Jan 28 | Evan | 2 Comments |
Again I shot for the University of Miami Sports Information Department, and again Miami lost to another North Carolina school. This time it was an overtime loss to the Wolfpack of North Carolina State University. Miami started out the first half without much effort and was down by double digits at halftime. The Hurricanes started out the second half strong and made it a game, mainly because everytime Miami's Dwayne Collins touched the ball he seemed to be able to dunk it! Really, it was a little ridiculous. Equally as ridiculous was NCSU shooting 54% from the three point line and connecting on 14 threes! At the end of regulation, UM had the last shot, but couldn't get the shot to fall. In the end, a fade away three pointer with about 3 seconds left in OT, put NCSU up for good giving Miami their second strait overtime loss!
[fancygallery id='09umncsu']
Jan 17 | Evan | No Comments |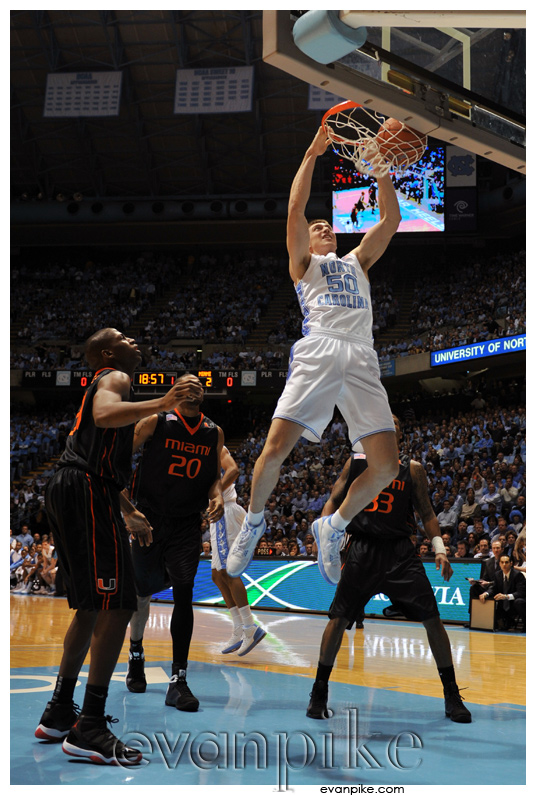 Last Saturday, I shot the the basketball game at the Dean Dome for the University of Miami Sports Information Department because Jack McClinton and the Miami Hurricanes came into town to play the UNC Tarheels. Having been out of the country for the past few years, it was the first NCAA game I had shot in a while! It took me a few plays to get the rust off, but I came away with some good shots and had a blast!
[fancygallery id='09umunc']