Oct 02 | Evan | No Comments |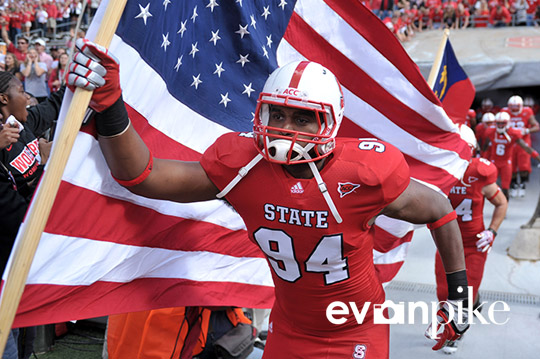 After the summer was trying to last a little longer, I was very excited for a cool fall day at Carter-FInely Stadium to photograph the Georgia Tech Yellow Jackets vs North Carolina State Wolfpack for Cal Sport Media.  I was not so excited about NCSU students and fans playing cornhole all over the parking lot I had reseved parking in (who knew it was such a popular game)!
Sep 25 | Evan | No Comments |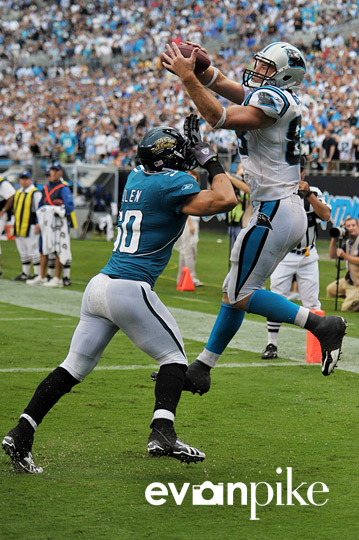 While photographing in the rain can be fun, when there is enough rain to issue flash flood warning and having to wade through about a foot of water to get to the field, not so much fun! Actually, who am I kidding, photographing any football game is fun and I was excited about photographing the Panthers game for Cal Sport Media.
Sep 11 | Evan | No Comments |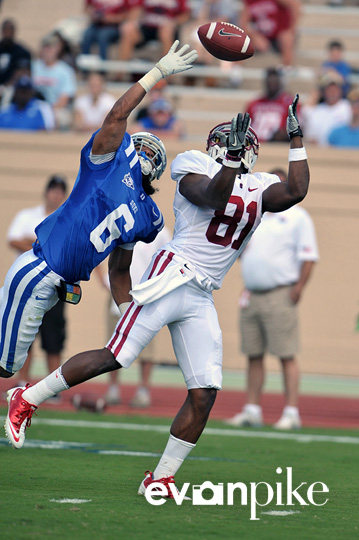 Once again thanks to Cal Sport Media, I was photographing some NCAA football. This time might Stanford made their way into Durham to take on the Duke Blue Devils. While this would have been a great match up during most basketball seasons, I think we all knew where this one was headed…

Sep 03 | Evan | No Comments |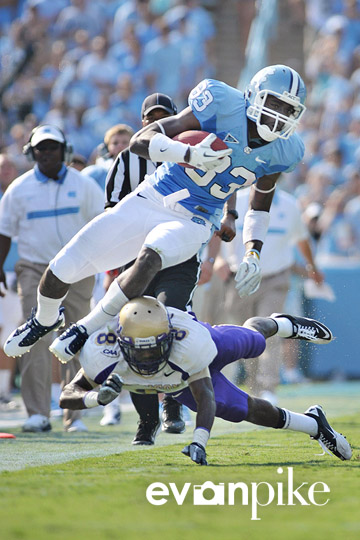 It's been a little while, but thanks to Cal Sport Media, I was back in Keenan Stadium today for the James Madison vs UNC football game today. It took me about a quarter to get back into the swing of the speed of NCAA football, but overall, I'm happy with what I came away with. Congrats to UNC on a great start to a season and to Bryn Reenner who set a UNC completion percentage record completing 22 out of 23 passes (95.7%), but actually, the one pass he didn't complete was an interception, so technically 100% percent of his passes were caught today! Pretty incredible for anyone, let alone a first time starter!
Jan 01 | Evan | No Comments |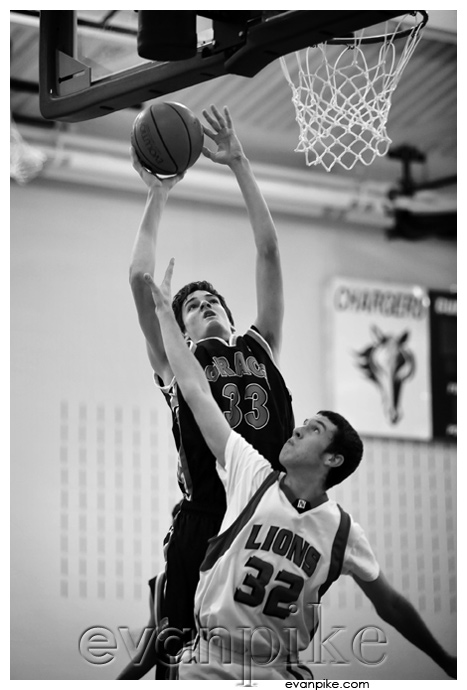 First of all, happy new year to everyone! I hope your 2009 holiday season ended well and was a safe one! Hope 2010 brings everyone happiness and joy!
As for me, I spent most of my last week of 2009 at Cary Academy, photographing some great high school basketball. After being away from high school basketball for so long, it was really wonderful to see some exciting games and good players. There were 8 teams in both the girls and guys bracket at the 2009 Mission Sports Cary Academy Holiday Tournament, and I think I was able to watch/photograph at least a half of each of the 16 teams. Overall I was impressed with most of the teams, but I think my team from my senior year of high school could have played with and beat most of, if not all, of them! On that note, congratulations to the girls from Southern Durham High School and boys from Wayne Country Day!
For those teams in the tournament looking for more photos of the basketball tournament, they are located at my shop.
Mar 18 | Evan | No Comments |
What started out as a cold, rainy, dismal day, turned out to be a beautiful day to be celebrated! Not only did the Carolina Railhawks defeat the MLS New England Revolution 1-0, but Carolina's defender, Caleb Norkus, proposed to his girlfriend, Danielle Fernandez, just after Danielle sang the national anthem. By the photos below, you can probably guess what her answer was! Congratulations to both the Railhawks and to Caleb and Danielle!
Mar 14 | Evan | No Comments |
March 7th, 2009 was the inaugural Get Your Rear in Gear 5k at Fred Fletcher Park, in Raleigh, North Carolina and I was the official photographer for the race that was raising awareness of colon and rectal cancer and positively impact screening rates. When I was in high school, I use to run track and cross country (although Satomi cannot believe I used to be able to run a 4:38 mile…actually, neither can I come to think of it) but this was my first time photographing a race. Overall it went well, but since I tried to take a few photos of every participant (over 600 of them) I easily ended up with over 3000 photographs in just over an hour! If you were a participant, or just want to see a lot of race photos, the photos from the Get Your Rear in Gear 5k are all over in my gallery.
Feb 27 | Evan | 5 Comments |
A few weeks ago, on a beautiful Monday morning, I took some photos at the first practice of the season for the
Carolina Railhawks
. The Carolina RailHawks FC is an American professional soccer team, and a member of the USL First Division, the second tier of the American Soccer Pyramid. Starting from this upcoming season, I will be taking photographs for them! This is exciting because I have not had too many opportunities to shoot soccer. I shot some while at "The U" but not as much as basketball and football. Like just about every other kid, I played soccer for a while, so it will bring back some memories! The Railhawks play their first exhibition game
Saturday, March 14th
.
Feb 23 | Evan | No Comments |
Wow! So much has gone since my last post that I really have not had any time to blog about it! Yes I really have been that busy, but the past 10 days or so were great, including everything from a business trip to Las Vegas to child portrait sessions and birthday parties to getting my own portrait done! More is coming real soon, but until then, check out this video from UM at UNC that shows a new way to show of my photos.
[flashvideo file=/wp-content/video/UMUNC.flv /]
Feb 10 | Evan | 1 Comment |
Once again, the University of Miami Hurricanes came to the state of North Carolina. Once again, I was asked to photograph the game between Miami and a North Carolina ACC foe. Once again, I was able to photography a great game and once again, Miami lost in overtime! At least I did manage to come away with some decent photographs.
Jan 28 | Evan | 2 Comments |
Again I shot for the University of Miami Sports Information Department, and again Miami lost to another North Carolina school. This time it was an overtime loss to the Wolfpack of North Carolina State University. Miami started out the first half without much effort and was down by double digits at halftime. The Hurricanes started out the second half strong and made it a game, mainly because everytime Miami's Dwayne Collins touched the ball he seemed to be able to dunk it! Really, it was a little ridiculous. Equally as ridiculous was NCSU shooting 54% from the three point line and connecting on 14 threes! At the end of regulation, UM had the last shot, but couldn't get the shot to fall. In the end, a fade away three pointer with about 3 seconds left in OT, put NCSU up for good giving Miami their second strait overtime loss!
[fancygallery id='09umncsu']
Jan 17 | Evan | No Comments |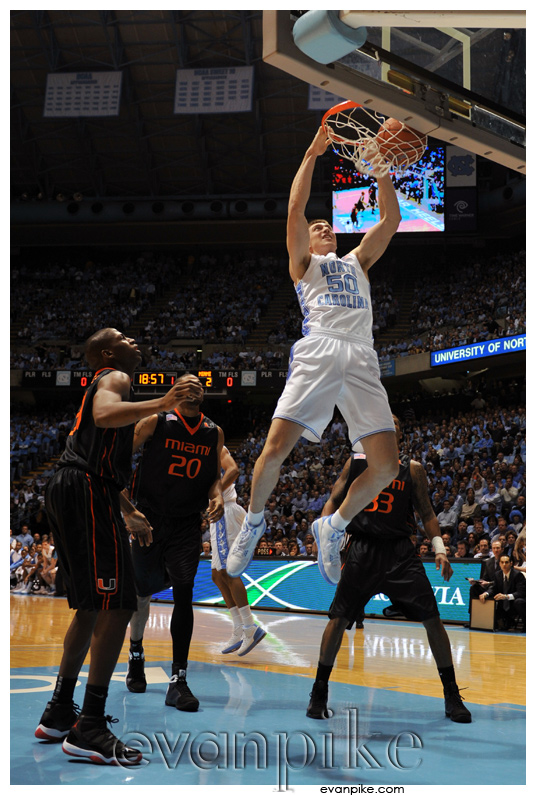 Last Saturday, I shot the the basketball game at the Dean Dome for the University of Miami Sports Information Department because Jack McClinton and the Miami Hurricanes came into town to play the UNC Tarheels. Having been out of the country for the past few years, it was the first NCAA game I had shot in a while! It took me a few plays to get the rust off, but I came away with some good shots and had a blast!
[fancygallery id='09umunc']