Feb 23 | Evan | No Comments |
Wow! So much has gone since my last post that I really have not had any time to blog about it! Yes I really have been that busy, but the past 10 days or so were great, including everything from a business trip to Las Vegas to child portrait sessions and birthday parties to getting my own portrait done! More is coming real soon, but until then, check out this video from UM at UNC that shows a new way to show of my photos.
[flashvideo file=/wp-content/video/UMUNC.flv /]
Feb 10 | Evan | 1 Comment |
Once again, the University of Miami Hurricanes came to the state of North Carolina. Once again, I was asked to photograph the game between Miami and a North Carolina ACC foe. Once again, I was able to photography a great game and once again, Miami lost in overtime! At least I did manage to come away with some decent photographs.
Jan 28 | Evan | 2 Comments |
Again I shot for the University of Miami Sports Information Department, and again Miami lost to another North Carolina school. This time it was an overtime loss to the Wolfpack of North Carolina State University. Miami started out the first half without much effort and was down by double digits at halftime. The Hurricanes started out the second half strong and made it a game, mainly because everytime Miami's Dwayne Collins touched the ball he seemed to be able to dunk it! Really, it was a little ridiculous. Equally as ridiculous was NCSU shooting 54% from the three point line and connecting on 14 threes! At the end of regulation, UM had the last shot, but couldn't get the shot to fall. In the end, a fade away three pointer with about 3 seconds left in OT, put NCSU up for good giving Miami their second strait overtime loss!
[fancygallery id='09umncsu']
Jan 17 | Evan | No Comments |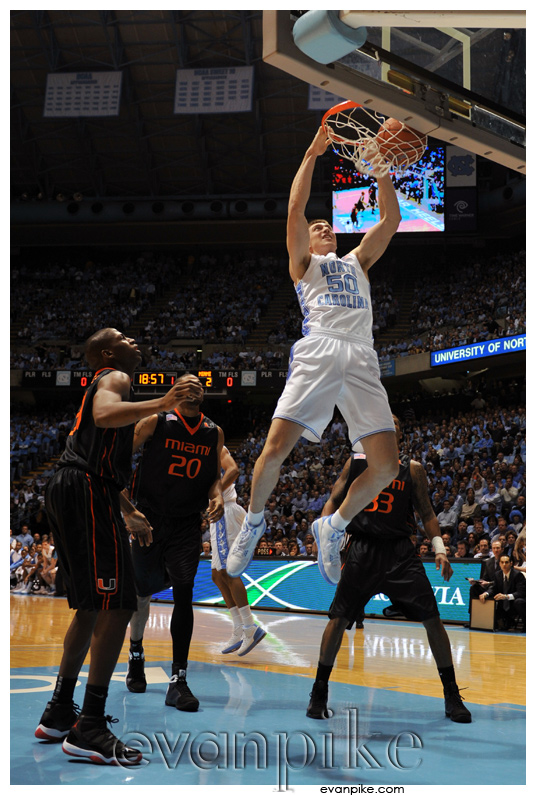 Last Saturday, I shot the the basketball game at the Dean Dome for the University of Miami Sports Information Department because Jack McClinton and the Miami Hurricanes came into town to play the UNC Tarheels. Having been out of the country for the past few years, it was the first NCAA game I had shot in a while! It took me a few plays to get the rust off, but I came away with some good shots and had a blast!
[fancygallery id='09umunc']